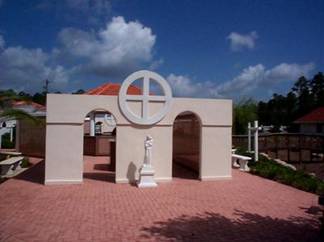 ELIZABETH ANN SETON CATHOLIC CHURCH
is a 24,000 square foot worship hall in Flagler County, Florida. The project was an addition to an existing facility owned by the Diocese of St. Augustine.    
The existing site was altered and improved under this project. A new library, administration office, and classrooms as well as parking lot additions were also designed and constructed after the new Church was constructed. The design included site design, paving, grading, drainage, stormwater management, wastewater collection, drinking water distribution and fire protection systems. Construction permits were obtained from Flagler County, St. Johns River Water Management District, FDOT and FDEP. Construction Administration and inspection services were also provided.